Asia Pacific Projects
China
Yunnan 2004 (China)
All the finds of this expedition were drawn in Therion, with Illustrator used to produce the final page layout. About 10 small caves with total length of less than 1km.
Malaysia
Mulu, Borneo, Malaysia
It all started back on the 2003 Mulu expedition, Wookey had the job of surveyor in charge. The situation historically had been that once the survey was drawn up the underground notes were considered useless, and hence early ones were lost. Later ones were also lost after being handed over to the park service. Wookey set about the process of finding as much data as possible and reconstructing the rest, first as survex files and then drawing the passage detail in Therion. On the 2005 expedition Andrew Atkinson took over the surveying role and during that year 25km of cave were found and the plans drawn in the field with most of the expedition members using Therion to enter the survey. Although some of the joins were not totally finished and some detail was missing, a small scale survey was handed to the park warden at the end of the trip. Andrew also started the process of organising the survey data into a logical structure.
At the end of 2006 220 km of cave had been entered into survex, and about 80 km of this had be drawn in some detail in therion. In 2007 Dave Clucas took on the task of mapping Whiterock Cave. The plan view was completed during the 2009 expedition. The project continues with drawings of the whole of the Clearwater System, now 176kms long, being added.
Links
Mulu Caves 2009
Caves: Whiterock Cave & Hole Of The Moon

Author: Dave Clucas

Date: 28th January to 12th March

Length: 27 km

Links:

Notes: Surveying on the Mulu 2009 expedition was slightly different to previous expeditions as this time, all survey data were translated and drawn up in the field using Therion resulting in an almost complete map before the expedition finished.
Lagan's Cave
Lagan's cave is an adventure show cave in Gunng Mulu National Park, Sarawak, Malaysia.
The cave was discovered during the Mulu 84 expedition and was developed by the National Park from 2010 as an adventure show cave.
A plank walk was built in the tourist cave section to protect the cave from visitors but the further reaches can be visited by experienced cavers who must be accompanied by a registered guide.
The cave was extended by the Mulu 2012 expedition and was completely re-surveyed during 2011 and 2012 to produce a map suitable for a display board.
Links
Australia
Figtree Cave, Wombeyan Caves (Australia, NSW)
Authors: Jill Rowling, Michael Lake

Beginning: January 2007

Length: have so far done 3 km of survey. Cave is about 700 m in extent and 50 m deep.

Screenshots/webpage - not yet.
Lao
Northern Lao European Cave Project 2009
Cave: Ban Chom Ong System - Northern Lao

Author: Dave Clucas

Date: 12th January to 26th January

Length: 11383 m

Depth: 64 m

Notes: We are very happy to have explored the exceptional beautiful Chom Ong cave and enjoyed the great team atmosphere and cave talks during the evening. In total 15km of caves have been mapped during the 2 weeks. The project will return again to Oudomxay in January 2010.
New Zealand
Riuwaka Catchment Caves (NZ)
Notes: The Riuwaka System appears to cover a 9km x 7 km area. In 2010 we thought we were nearing completion of the Greenlink system maps. We have a 3d terrain model and photo/topo/geology/legal boundary composite overlay ready for addition of other caves in the system for which we only have paper maps, and plotting of entrances and surface features. Unfortunately (?) we keep finding new passage.
Cave: Greenlink / Middle Earth / Swiss Maid / Dwarf's Door. Four connected caves.

Author: Bruce Mutton, Michael Brewer

Beginning: Discovery and rudimentary survey 1974, 1992 - 1994, about 5km, survey records lost, team drift, entropy

Date: 2005 - started re-survey - 2007 Therion discovered, then PocketTopo - early 2010 completion is in sight - late 2010 significant discovery, a lot more still to find…

Length: 39.5 km as at March 2022 and growing. Second longest NZ cave survey.

Depth: 404 m

Representations: An early version of the map won the NZSS Survey competition in 2008, as did the 2010 version. The esri outline shapefiles make quite a nice overlay for aerial photos. This cave deserves a multi chapter atlas and elevations from a couple of view points, and if we ever stop finding new passage we might get around to it.
Caves: Perseverance, Summit Tomo, Black Sabbath, Kiwi Burger, Hawkes, Kairuru, Riuwaka Resurgence

Length: Each 100 m - 3 km

Notes: Skeletal Therion model produced from paper maps, scans of which are incorporated in 2D maps and 3D models of Riuwaka System. Some paperless surveyed with Therion generated maps.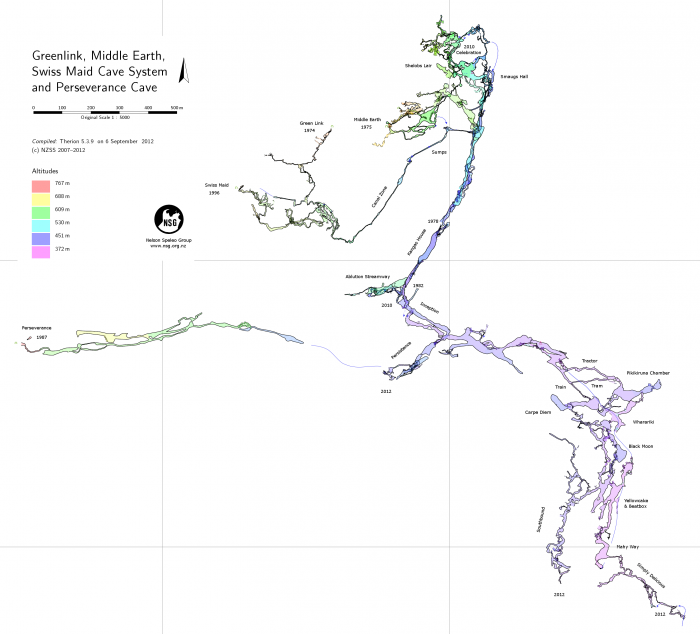 Bulmer Cavern (NZ)
Notes: Bulmer Cavern is well surveyed by New Zealand standards, there is a nice On-Station centreline, but there are lots of bits of paper maps that don't fit well together, and lots of cave not drawn. There are Illustrator amalgamations of these with new bits added. Michael and Bruce are waiting for inspiration to get the rest of the cave into Therion, so that the map can become coherent and we can put it into the terrain model that is waiting for it…
Cave Passage: The Beautiful Bulmer - Late 08 series.

Author: Bruce Mutton, Michael Brewer

Date: 2006 - 2009

Length: A 3.8 km portion of the 65 km (to date) Bulmer Cavern

Depth: 140 m

Representations: Versions of our interactive atlas, map, 3D model and list of leads won the NZSS Survey competition in 2009.
Cave Passage: Up Up And Away passage.

Author: Bruce Mutton, Michael Brewer

Date: 2009

Length: 800 m
South Flora Catchment Caves (NZ)
Notes: Another great set of survey notes processed and sketched nicely in the early 1990's … and lost before a map could be produced. The resurvey begins with a couple of recently discovered caves.
Caves: Cheops Extension Cave, Cheops Cave

Author: Bruce Mutton, Greg Pickford

Date: 2009 - 2010

Length: 1.5 km surveyed so far

Representations: Maps at 1:1000, 1:2000 of the cave and environs, ready for the inclusion of other known caves and surface features. Quite a nice Google Earth map and model, and a Loch terrain model covering 20 km2 with a 1 pixel / m aerial photograph superposed on grid lines, contours and property boundaries. About 30 entrances and surface features located.
Patarau Caves (NZ)
Cave: Grike Cave

Author: Bruce Mutton, Greg Pickford, Ian MacGregor

Date: 2008 -

Length: Quite short, this is a project that's having trouble making progress at the moment.
Indonesia - Kalimantan
Expedition of Group Vulcain France - 2010